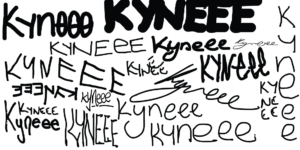 Got no talent but always wanted to design a snowboard?
We need help with one of our upcoming designs so here's your chance to get something you've done onto a board and score one… Yes we're going to give away a board.
Here's what we need you to do.
write the word kyneee in black pen/texta/crayon/paint on a white piece of paper.
Every submission will feature on an upcoming kyneee board(like the design above just not as bad) and who ever is chosen for the giant KYNEEE on the bottom will get a copy of the board in a size of their choice. So you probably want to make it rad…